Can you tell who this is inspired by?
Probably. Oh, I tried so hard to hide the fangirl.
Anyways…lately, I've been busy with updating and re-opening myself to artistic income. I've made some changes since my last artistic entrepreneurship. There are three major changes. One, I'm not using Etsy as a shop platform. Two, I'm not using Facebook as a social media platform*. Three, I'm selling artwork that I draw as prints on various things, like tanks and pillows. I'll touch on what I think so far about the changes as well.
I have loved blogging on WordPress for a long time. A little while back, I looked into self-hosting I browsed a couple of recommended host plans(by some WordPress blog), all which were above my business budget. Then I found Siteground this month, which has a nice monthly trial(it's paid), giving me a good amount of time to evaluate if this is a fit for me or not. So far I like it. It's been a week, as of publishing. I've added a print service to my shop. This is completely new to my business model. I learned that there are additional steps involved that I did not anticipate for print services. Call me naive Nancy, but I thought I could just scan it and upload it to Printful. But lo and behold, I  need to use Gimp to scale the images to proper dpi(dot per inch) for better print quality. That takes time as my computer moves like molasses because it's a dinosaur running Windows 10 I must be patient with my laptop because I also like playing games on it despite its age.  I'm getting used to it though.
Another change is that I won't be using Facebook's fan page function to share, promote, etc any of my work. That doesn't mean others can't share it on the platform. In fact, if a reader of mines is a Facebook user and finds my art intriguing or wants to tell others about it, I'd encourage he or her to share however he or she prefers to. On a personal level, I quit Facebook in October 2016(it's April 2017 in case you missed the date of publishing). I briefly considered using the Fan page function during my change. However, I looked at how my page did back then. At the time of the last post before scheduled deletion, my page had 33 page likes. A small number, but the real pitiful number was the average engagement. An average of 3 people engaged with the stuff I shared, if the post got any engagement at all. I believe it's better overall to have a page(or website) with 10 followers, all who love and engage with your from time to time, rather than to have a page with 579 followers with about 12 people engaging with your content. I am not 100% Facebook free, I am active on Instagram.
I mentioned that I'm no longer relying on Etsy to do shop stuff as well. Etsy did not work out for me or my business. For all of the time, money etc invested into an Etsy shop, I'd be better off building my own website. In July of 2016 through August 2016, I put my heart into my Etsy shop. I should mention that I had my Etsy shop from 2013-2014(I neglected it for self-care and paying attention to life stuff) and 2015-2016. I even used their mirror Etsy shop website builder, Pattern(note it isn't your own website, it masquerades as one). I was paying $15 a month on top of listing fees. I loathe listing fees. They are absurd. I can't think of any other online marketplace that I've tried out or have bought from(not sold on), eBay, Storenvy, Craiglist, even Facebook commerce, that charges you just to list products. Those 20 cents add up. I'm not saying this to say Etsy is horrible. It certainly has a place for people in the handmade business world. It's just not a fit for me.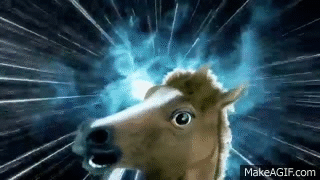 So onto some futuristic stuff, yeah!!
Things to look forward to. Some former Etsy yarn based products, for example, Kirby gloves, as well as new additions.  The art prints is a new thing, as stated earlier.I'll dig through some of my artwork, ones that I think looks nice I'll add as a shop item. As well as new pieces, as I'm drawing painting things all the time. This process will be slow. I'm one gal working on all this admin stuff. If you've seen any of my art that isn't in my shop that you'd like to see in my shop, leave a comment(some places on the web that my work may be spotted are my Deviantart page, Instagram, and Flickr. Though I don't update those much.)
Fun fact!! The title of this blog post was inspired by a song by Madonna called MerGirl. It's on my favorite album, Ray of Light. Yay, useless inspirations…